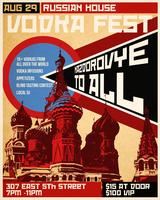 Thursday, August 29, 2013 from 7:00 PM to 11:00 PM
Austin, Texas
Russian House
307 E 5th St
Austin, TX 78701
Vodka Fest by Russians Who Know it Best
When: August 29th, 2013
Where: Russian House @ 307 East 5th street
Time: 7pm - 11pm
We are the only Russian restaurant in Austin with the largest variety of vodkas from all over the World. We are famous for our nearly 100+ house infused vodkas.
We are Russians and we LOVE Vodka!
What To Expect:
-Over 15+ vodkas from all over the world
-Appetizers by Russian House
-Russian House Vodka Infusions
-Vodka Blind Tasting Contest
-Local DJ Music
VODKAS
Jean Marc XO, Skyy Moscato Grape, Skyy Wild Strawberry, Skyy original, Dripping Spring - infused by Russian House, Dripping Springs Orange flavor vodka, 1876 by Dripping Springs, Enchanted Rock original, Rebecca Creek Whiskey, Russian Standard Original, Russian Standard Platinum, Green Mark, Svedka, Svedka Orange Cream Pop, Strawberry Colada, Colada Svedka, Starlite original, waterloo, Double Cross Vodka, Ruskova, Reyka original, Deep Eddy Original, Ruby Red, Kru vodka, Kru-cucumber flavor, Mango flavor, truffle flavor, peach mango, wintergreen flavor. Twenty Grand Vodka Cognac and Black, pinnacle whipped and regular, Effen salted caramel and cucumber and the pinnacle rainbow sherbet and strawberry shortcake and more...
$15 per person at the door
$100 per person VIP (25 seats in VIP Room)